Totem Playlist Sharing

To test versatility of libepc I've written a Totem plugin for sharing the current playlist.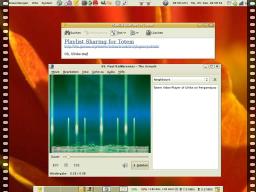 Seems we've got another cool feature now, and libepc is in much better shape. Code is commited to Totem trunk, and also depends - surprise - on libepc trunk.
Disclaimer: Yes, demonstrating features of a media player without any audio track sucks, but Istanbul 0.2.2 hangs after recording with sound, and when running its pipeline with gst-launch I get alot of warnings about missing audio data plus some unpleasant, stuttering video.
Comments
Simone commented on December 3, 2007 at 11:30 a.m.

Try Pitivi... you could add the audio track after recording.

Philip commented on December 3, 2007 at 5:41 p.m.

Great work! I've been watching this on trunk, and it's come along nicely.

Andrea "Cimi" Cimitan commented on December 3, 2007 at 6:20 p.m.

Fun stuff... I guess I'll love it in my WLAN :)

Which is the audio visualizations? It seems different to GOOM...

Mathias Hasselmann commented on December 3, 2007 at 9:43 p.m.

Andrea: The visualization is "libvisual oinksie", got it by installing libvisual-0.4-plugins. You copy of gstreamer0.10-plugins-base should have an adapter plugin for using libvisual plugins.

Simone: Uch, that's work! :-)