Postings by Michael in January 2012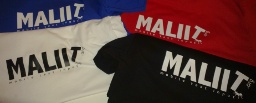 It took us a while to transform the Maliit project into a real opensource project. At first there was only public code, later some wiki pages @ meego.com together with constantly changing components in the official MeeGo bugtracker, then a public mailing list.
After that we tried to become independent of MeeGo, but neither freedesktop.org nor the GNOME project could give us a suitable home. So we had to go with our own infrastructure in the end, which probably was the best we could do, in any case. We now enjoy our own website (mostly a wiki, for which we can also analyze the traffic), our own IRC channel, our own public bugtracker, our own mailing lists and a build bot. We also make use of other services such as launchpad.org and the openSUSE Build Service, both for packaging but also as part of our continouous integration setup. Both services provide nightly builds for Maliit, for example (though we still lack packages for ARM).
But there was always one thing missing: T-Shirts. Now that this is solved, too, we can finally call Maliit a real opensource project ;-) Hopefully we'll soon have another group photo of the people who've been involved in the project over the years. I'll make sure to bring a couple of T-Shirts to FOSDEM, so make sure grab Jon or me if you want one.

We finally published a video about Maliit - an input method framework including a virtual keyboard - and 3rd party plugins. Kudos goes to Jon for making time for that.
This video highlights one of Maliit's key features: pluggable input methods which come with their very own user interfaces. The Chinese input methods show how Maliit offers support for composed characters. The video is proof that 3rd party development for Maliit (open-source and proprietary) is not only possible but also happening.
maliit.org states that "it should be easy to customize existing input methods or develop powerful new input methods, whether for profit, research or fun", we actually mean it.
The harder question is of course how to motivate others to actually get started on input method development with Maliit. For that, we have a multipronged strategy:
Provide sufficiently polished reference plugins that can show off Maliit capabilities but also serve as inspiration for new plugins (hence the BSD license for reference plugins). Our reference plugins are currently using Qt/C++ (Maliit Keyboard) and QML (Nemo Keyboard). We also have PySide support, but no one contributed a reference plugin yet. This gives choice to interested input method developers, and we think that's important. The reference plugins serve another role when it comes to designing new API: They become our testbed, allowing us to verify our API proposals.

Ship Maliit with a bunch of example plugins and example applications. None of them try to be complete. They are all self-contained though and usually show one feature at a time. This can be tedious to maintain, but we believe that examples need to stay small and focused, otherwise developers won't look at them.

Documentation that is easy to consume. Our documentation is not as concise and clear as we'd like it to be, but it's slowly improving. We also experiment with videos that can serve as an introduction to more in-depth (text) documentation.

Packages for most common Linux distributions. This one seems obvious, but sadly, it's quite a lot of work for us to keep up with it (and we already use automated services such as Launchpad and OpenSuse Build Service). In the hope to attract dedicated packagers we wrote down some packaging guidelines

An architecture that had 3rd party plugins and multiple toolkit support in mind from the start. The plugin developer facing API needs to be easy to use and clearly documented. This will be the focus of the upcoming 0.9x series.
We will demo Maliit @ FOSDEM 2012, hope to see you there!