Postings in February 2012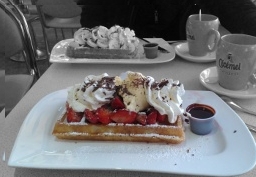 FOSDEM in 2012 was an exciting (and naturally, exhaustive) conference again. It's great to have so many relevant people who are all active in the free software world together in one place. It's also a great opportunity to discuss radical new ideas, ideally while experimenting with Belgium beer. Which is what we usually did when we weren't at the conference site.
It was nice to see Jarno and Esko at the conference, too. We even stayed in the same hotel. I hope they enjoyed the Ethiopian lunch as much as I did. And perhaps they're not too angry any more that we lead them to drink Absinthe ;-)
Jon and I gave two talks. Jon's talk (slides) was about Maliit as a project, explaining what Maliit is (and what it is not), combined with a short history lesson about the project. I tried to outline the difficulties of mobile text input in general (slides), picking some use-cases that are known from the desktop world and showing why simply copying the use-cases and their known interaction models does not work very well. I honestly liked Jon's talk more though.
Neither of us two actually managed to visit other talks, even though we wanted to. We had to ask Jarno, Esko and others about what great talks we missed. Apparently there were quite a few :-(
Our Maliit T-Shirts were well received, though we usually only handed them out when someone listened to our Maliit ramblings long enough.
We were asked about accessibility several times, which is currently not within the scope of Maliit but perhaps something to think about in the future.
We also got to talk with the people working on (text) input in Redhat and Intel, mostly in the context of Wayland. There are some interesting opportunities to get things (more) right this time around.
Thanks to our employer, Openismus, for sending us there!